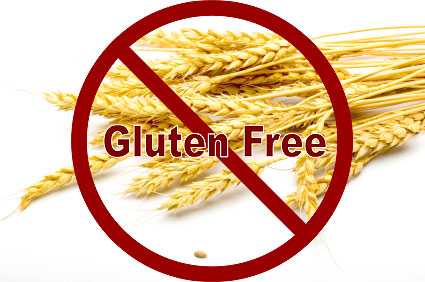 I recently decided to go gluten-free for many reasons. One of those reasons is that I have had troubles with arthritis in all my joints. Apparently gluten is bad for inflammation. Also, I read
Wheat Belly: Lose the Wheat, Lose the Weight, and Find Your Way Back to Health by William Davis
. In the book Davis cites empirical research studies that show that the hybridized wheat of today is bad for our health and may be partly responsible for the obesity epidemic. I highly recommend reading the book. If you don't have the time or interest in reading the book, then just read all the reviews on Amazon. The testimonials are very compelling.
My own testimonial is that when I initially went gluten-free for three weeks I lost 4 lbs. I didn't make any other changes to my diet or exercise. I wasn't counting calories or even focusing on eating healthy. I had plenty of meat, cheese, and nuts. Yet I still lost weight. I also didn't have any major flare ups in my joints during that time. After week three was over I decided to cheat a little bit. I had some gluten in the form of Crab Rangoon (I'm yearning for a gluten-free version!). The next morning I woke up with the inflammation in all my joints again.
With that lesson
learned
I went another four weeks without gluten. Unfortunately I had another weak moment and had Beef Wellington appetizers from Cosco (Please tell me if you ever find gluten-free puff pastry!). Again I woke up the next morning with all the joint pain. It wasn't worth it.
10 Symptoms of Gluten-Intolerance
I realize that going gluten-free might seem like a daunting or even impossible task. For me it was a relatively easy transition. As I have mentioned before my husband, Carl is Celiac (which is even worse than gluten-intolerance). Since I already have to read labels to make sure I don't poison him it isn't hard to do it for myself. We have been married for five years, and we have tried numerous gluten-free products. Some are good and some are not. Instead of telling you all the products that aren't worth the money I would rather focus on the positive. I have compiled the following list of some of our favorite gluten-free products:
Hormel Pepperoni and All-Natural Deli Meats
Boar's Head All-Natural Deli Meats
Trader Joe's Gluten-Free Brown Rice Pasta
Tinkyada Brown Rice Pasta
Ancient Harvest Quinoa Pasta (
Recipes
)
Conte's Gluten Free Spinach & Cheese Ravioli, Cheese Raviolli, and Gnochi (Frozen. They have many other products that I haven't tried yet including pizza and pierogies!
Available Online
!)
R.P.'s Pasta Co. Linguini and Fettucine (Refrigerated)
Classico Pasta Sauces (The Alfredo is also gluten-free!)
Sonoma Gluten-Free Flatbreads by Donatos (Frozen)
Deli International Pizza (Frozen)
Freschetta Gluten-Free Pizza (Frozen)
Mama Mary's Gluten-Free Thin Pizza Crust
Canyon Bakehouse Rosemary & Thyme Focaccia
, Sandwich Bread
Schar Par-baked Baguettes, Sub Rolls, and Ciabatta Rolls
Rotella's Sandwich Bread
Udi Sandwich Bread, Hot Dog Buns, Hamburger Buns, and Bagels
Betty Crocker Gluten-Free Bisquick and Dessert Mixes (
Recipes
)
Chebe Cheese Bread
Mix (Cheese sold separately. I haven't made these in a long time. Sorry, Carl.)
Enjoy Life Soft Baked Cookies
(Free of wheat, dairy, peanuts, tree nuts, egg, soy, fish, shellfish)
Grandma's House Gluten-Free Apple Pie
(Frozen)
Alexia Potatoes (Frozen)
Selected Wolfgang Puck Canned Soups (Not all are gluten-free.)
Selected Amy's Canned Soups and Frozen Entrees (Not all are gluten-free.)
DePuma Frozen Gluten-FreePasta
(I haven't tried this yet, but I'm including it in the list b/c it looks AMAZING!)
Glutino Pretzels & Bagel Chips
Stax (Pringles are not gluten-free.)
Blue Diamond Hazelnut Thin Crackers (They have other varieties, but we like the Hazelnut kind.)
Van's Gluten-Free Crackers
Chex Cereal (Make sure it's the Gluten-Free!)
Bob's Red Mill All-Purpose Gluten-Free Flour, Rice Flour
Additional Resources:
Gluten-Free Product Reviews
from fellow blogger and Kansas City girl, Marissa Carter
Glutenfree.com
Glutenfreemall
FindMeGlutenFree.com
Hopefully you will be able to find these gluten-free products in your local supermarket in the health foods section or within the rest of the store. If not, then you may have to purchase them online. I also highly recommend requesting them through your local supermarkets in hopes that they will stock them for you. Just remind them that they are missing sales. The squeaky wheel gets the grease!
xoxo,
Sara
P.S. Please include your own delicious gluten-free finds in the comments!